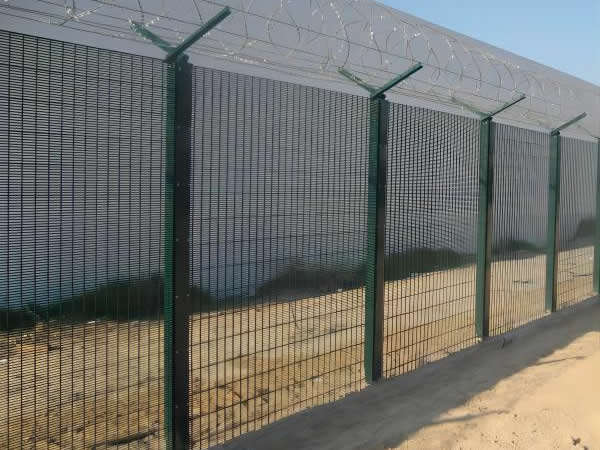 358 Anti-Climb Security
Anti climb mesh fence is also called 358 fence( 3"×0.5"×8 gauge) also known as"prison mesh" or anti-climb fence, is a special fencing panel. This production offers the best value for performance, durability and appearance
Anti climb high security 358 mesh fence:
Anti climb mesh fence is also called 358 fence( 3"×0.5"×8 gauge) also known as"prison mesh" or anti-climb fence, is a special fencing panel. This production offers the best value for performance, durability and appearance,"358"comes from its measurements 3" x 0.5" x 8 gauge which equates to approx.76.2mm x 12.7mm x 4mm in metric.
358 wire mesh fence is a professional structure designed for high security environments, combined with an steel framework,coated with heavy zinc or RAL color powder coating.
Features:
1)Anti-climb: Much smaller openings makes it difficult to climb and penetrate.
2) Anti-cut: Robust wire and welded joints make it impossible to be cut by conventional wire cutters.
Processing of Anti climb prison fence:
Material - Straightening & cut wire - Welding - Galvanizing - Powder coating - Packaging
Application:
Bridge anti-climb guarding & guard safety screening
Psychiatric hospital security fencing
Prison security fencing
Factory machine guards
Walkway security fencing
Airport security fencing
Shipping Port Security fencing
Electrical sub-station fencing
Gas pipelines security fence
High security living area and private field fence.
Specification:
* Material: Q195, steel wire
* Surface treatment:
I. Black wire welded mesh + pvc coated;
II. Galvanized welded mesh + pvc coated;
III. Hot dipped galvanized welded mesh + pvc coated.
(PVC coated colors: dark green, light green, blue, yellow, white, black, orange and red, etc.)
Panel
Posts
Section
Length
Total number of fixings
Height
Height xWidth
2.0
2007 x 2515
60x60x2.5mm
2700
7
14
2.4
2400 x 2515
60x60x2.5mm
3100
9
18
3.0
2997 x 2515
80x80x2.5mm
3800
11
22
3.3
3302 x 2515
80x80x2.5mm
4200
12
24
3.6
3607 x 2515
100x60x3mm
4500
13
25
3.6
3607 x 2515
100x100x3mm
4500
14
26